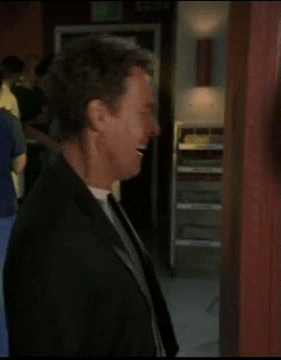 credit: GIPHY
Tank had orientation in Omaha a few weeks ago. We had to sign up in early May. He was hesitant to commit. Because of covid, high school volleyball season started late and finished late. He didn't want to miss playoffs.
I kept checking the link and the four available sessions were all still green the day after they opened. Later that day, Tank agreed to let me register him. In hindsight: I wish I'd signed him up and then cancelled later if we couldn't go.
I booked our flights. Then I pulled up the calendar on the college website where the dates were all still green - as in available. I clicked on the first dates that we'd decided on: June 7th/8th.
The website alerted me that the in-person orientation was full for those dates, only virtual was left. WHAT? Then how about you don't have the calendar date highlighted in green for AVAILABLE on the previous page. I decided not to panic. Surly the school would make space for us, we'd just booked flights and the green/available message was VERY misleading.
No cigar. They put us on the waiting list for the 7th and for the 14th. I signed him up for a session on a Thursday/Friday the following week that still had in-person availability. It'd be much harder for me to be away those days though.
*The school changed the website shortly after I called so that the initial page let you know whether or not in-person was closed.
I booked lots of flights. Two on Southwest, knowing if I cancelled I could get a credit for Tank to use sometime in the next year. The rest were using frequent flyer miles which could be put back if I cancelled. On the counter, I kept a hand drawn grid at my fingertips so I'd remember what needed to be canceled. I love things that are simple.
We got off the waiting list and ended up attending on the 14th, a Monday. No one caddies, so less chaos. Plus we were gone on a Tuesday when Coach is fairly flexible. Our flight out there cost a ton of miles. *sobs softly* Apparently Omaha was hosting Olympic swim trials. Maybe that drove the price of flights up? Hotel rooms were pricey too. Our flights home were the cheapest I'd bought - on Southwest, so that was a bonus. Or so I thought (my next post will reveal how we actually got home).
Orientation itself went well. Minutes after we arrived, I walked past a woman who looked so familiar.
Me: Tank, I think that woman works out in the same classes at the health club.
When she walked by, I stopped her. It took her a minute to recognize me without a baseball hat. She was like: HEY! We didn't really know each other, but we do now. She lives a distance from the health club, so our sons went to different high schools.
At these events, they whisk away the students. It was nice to have a buddy to hang out with and attend the various presentations with. I felt a tad guilty for not trying to meet other parents. Reminder: I've met other parents at orientations and I never saw them again. This is my 3rd orientation and my fav. They did a great job of delivering the information. Shockingly not boring.
Part way through the director of housing's presentation (that we both attended but weren't sitting together), Tank texted me: OMG THIS LADY REMINDS ME SO MUCH OF MINI.
The woman was very animated. She was trying to sell everyone on buying linens from the school to fund special programs. "I still remember the color scheme my roommate and I agreed on: Lime/coral." This was followed by a sort of snort laugh.
The few days away were fun. Before we left to go to Omaha, while we were waiting for our plane, Tank shared a text he'd gotten from Coach. Photo of Coach chilling on the deck. He's wearing Tank's slides and drinking from the tumbler the high school gave Tank at graduation.
The message: TANK, IF YOU WANT YOUR STUFF BACK, BE NICE TO MY WIFE.
Well played, Coach.